Reusable Food Pouches For All Ages!
---
---
The best 5 refillable squeezer pouches that can hold up to 6 fluid ounces. The ONLY pouch available that can self stand and has a clear fill line with measurement markings on the back
Our Little SqueezeMe pouch is very durable and is made with the highest quality materials available
Leak free and easy to fill extra strength double zippered pouches. No filling station needed! Just pour or spoon in through the wide top zipper opening
DIY homemade snacks using fresh organic pureed fruits, applesauce and yogurt. Great for an adults portioned meals, after work out protein shakes and work lunch
Easy to clean with an easy to see clear bottom, dishwasher and freezer safe. Excellent for freezing meals and snacks in advance! When ready to enjoy, defrost in a bowl of warm water or use the frozen pouch as an ice pack in the cooler and will be ready by lunch
Go Green and Save Money! Tired of throwing away so many baby food pouches? These big reusable pouches are earth friendly and is BPA, Phthalate, PVC and Lead Free

We believe in giving back to our communities! For every purchase, 2 foundations will each receive $1 to support MOMS and BABIES...The Breast Cancer Research Foundation and March of Dimes

Go green and save money!
•Pouches can be used over and over again
•Save money and natural resources compared to disposable pouches
•Packaging and pouches are recyclable
Pack the Perfect Homemade Blended Snack or Smoothies without the Hidden Sugar, Salt and Chemicals
•Save time and money while giving your kids homemade nutritional snacks
•Take control and eliminate chemicals and allergens from your children's food
•Great for Moms and Dads on the go. They are mess free!
•Kids love to sip and slurp! Make it fun, healthy and easy to eat with your yummy food purees
There are many ways to make it tasty and healthy for your little ones. Be creative. We just listed a few suggestions
•Pureed fruits and veggies, smoothies, yogurt, jello, pudding and cooked wholesome meals
Product Features
•Designed with kids in mind. Rounded edges makes it easy to hold for the cute little hands
•Self standing pouch makes it easier for filling and use
•Clear fill line on the back with measurement markings
•Top zipper sealed and not on the bottom or side which may cause leakage
•Back label for name, date and contents. Use a dry erase marker and simply erase after each use with a dry cotton swab
•Designed for boys and girls
The ONLY reusable pouch that is self standing with a clear fill line with measurement markings
We produce the highest quality pouch made, but if you're not satisfied, we're not satisfied. We will offer you a 90 day product guarantee. If you are not satisfied, return them for a full refund
We are currently running a
57% OFF SALE
, for a limited time only.
Click the Order now button for $14.95 to begin enjoying all the benefits of our Little SqueezeMe pouch - A pack includes 5 pouches and 5 caps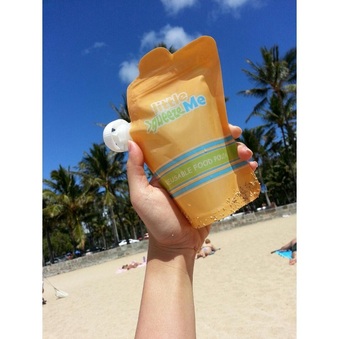 ---
---
Frequently Asked Questions

---
---
How Do I Clean Corners Of The Pouch?
Rinse out the pouch and let it soak in warm soapy water with the base expanded open for a few minutes and use a bottle brush to brush out the food particles. Use a nipple brush to clean the spout and food particle at the bottom or hard to reach areas. We made the corners rounded, so cleaning the pouches should be easy.

How do I dry the pouches?
The key to drying the pouches is to create air flow. Expand the base of the pouch with the cap off and prop it upside down on a dish rack cup holder. Make sure the top (zipper part) stays open to create air flow. You can also put a whisk inside the pouch with the base expanded opened and place the whisk handle in a cup to dry.

I can't seem to fill 6 ounces in these pouches? What am I doing wrong?
In order to fill the maximum 6 fluid ounces, you must expand the base. This will allow you to fill to the maximum capacity. The pouches can then stand on its own and make it easier to fill.

What Type Of Pen Is Best To Write On The Back Labeled Space?
Our packaging box says to use a permanent maker, which is a typo. Please use a dry erase marker. We find that many of our customers also use tape to write on and simply peel off when it's not needed. We apologize for any confusion.

Why Can't The Pouches Stand On Its Own? I've Read That It Can Self Stand When they Are Filled.
They certainly do! We recommend filling the pouch first and expand the bottom using your fingers so the base stays open, then filling the rest to the desired amount. If you don't expand the bottom after filling it with food, the base will stay closed.

How Do I Fill My Pouch?
Believe it or not, you don't need to fit a funnel through the tiny spout to fill your pouch. All you need to do is open the zipper at the top of the pouch. You can pull the top tabs apart for easy zipper opening. Be sure to rinse away any food from the double zip seal to prevent leaks. Zip the pouch up and simply rinse it under water to remove excess food.

What Are The Best Foods To Put In The Pouches?
Little SqueezeMe is great for homemade baby food purées, rice cereal, oatmeal, smoothies, applesauce, and yogurt. Store bought yogurt with fruits are good too! No need to blend them, as the fruits are soft and go through the spout easily. Also for dessert, try jello or pudding! Two general guidelines: 1.) If it flows easily through a sippy cup, it is probably too thin for Little SqueezeMe. 2.) If it's too thick to flow through a sippy cup, use Little SqueezeMe!

How Long Will My Pouch Last?
It depends, among other things, on how rough and tumble your kids are. Ours are pretty tough on our pouches, but we use them for months and months. Hand washing with a bottle brush helps prolong the life of the pouches.